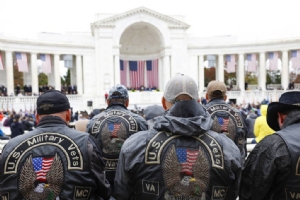 "I think veterans have earned these benefits and they shouldn't have to pay someone to help them get them," Joshua Jacobs, the White House's pick to lead the Veterans Benefits Administration, told senators during his confirmation hearing before the Senate Veterans' Affairs Committee on Thursday.
"The claims process is confusing, it's complicated, and at times it's perceived as adversarial. But we're working to change that.
Jacobs, who currently oversees the job of undersecretary for benefits in an acting role, made the comments in response to concerns from lawmakers that veterans seeking compensation under the Promise to Address Comprehensive Toxics Act (better known as the PACT Act) may be turning to outside firms that charge fees in order to decipher the sweeping law.
The PACT Act, passed last summer, is expected to provide new health care and disability payouts for more than 3 million veterans nationwide. Already, the department has processed about 180,000 claims under the new law.
But getting those claims completed can take months, and often requires VA staffers to request additional information if forms and processes aren't complete. Outside veterans groups can provide assistance in filing the claims, but critics have charged that too few free options are available to cover the expected demand.
Jacobs noted that VA officials held a PACT Act awareness week in December to help highlight the new law and its benefits, and said that officials are eyeing another such event in coming months.
If that happens, it will mark the first time that VA has had Senate-confirmed leaders in all its top leadership posts since late 2016.